School Crest & Motto
School Crest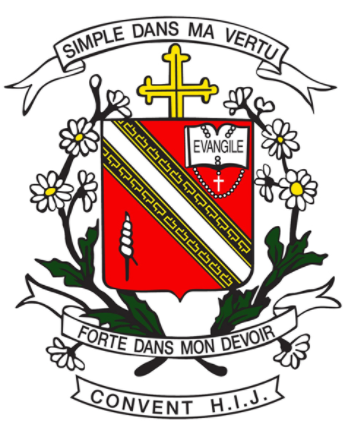 The CHIJ School Crest is an international badge worn by students of the Infant Jesus schools found in South America, the United Kingdom, Europe, Africa and South East Asia.
Our school crest is red with a silver band edged in gold. Red conveys the message of love, God's love embracing the world.
On the right is the Gospel.
It is a guide for those who seek God's will for a life of godliness. The silver rosary is a story of the Gospel, as seen through the eyes of the Virgin Marym
On its left, are the Distaff and Spindle.
There are signs of womanly neighbour which reminds us of the satisfaction and fulfilment to be found in a task well-accomplished.
The Shield is topped by a gold Cross
This serves as a reminder that inspiration, dedication and fidelity come from Christ.
The Shield is encircled by a garland of Marguerites
This is symbolic of purity and simplicity towards God, our neighbours and ourselves.
The CHIJ school crest is a badge of honour, history and distinction, inspiring every IJ school student to live guided by noble deeds and to uphold a three-century old tradition of heroic virtue, Christian fidelity and the best elements of global citizenship.
School Motto
The motto on the crest reads:

To be SIMPLE IN VIRTUE
is to go to God in full confidence and love.
It means being open and honest with others,
so that we can live in a spirit of togetherness.
This calls for an acknowledgement of our own faults and
an effort to overcome selfishness.
It is nobleness of character as shown in the correct behaviour
towards God and man.
To be STEADFAST IN DUTY
means to have an awareness of our duty to be of service to others.
The duty to give oneself demands energy because it presents itself daily.
Only when one puts self and petty interests aside
can this steadfastness in duty be fully achieved.
It is to be faithful in fulfilling obligations.